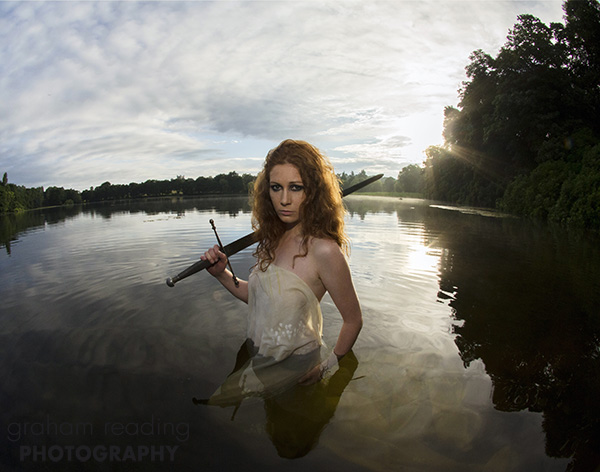 Every now and then I make time for a collaborative photo-shoot. The photograph above of the very beautiful Sarah Davenport www.sarahdavenportdesign.com is one from an amazing set of images produced on a warm sunny morning in July. I first met Sarah in Shoreditch at a London Fashion week show where one of her tables was being used as the catwalk for an 'Eternal Spirits' fashion show www.eternalspirits.com. Sarah made an impression on me as someone who was widely talented across a range of disciplines. The recent spell of hot sunny weather inspired me to ask Sarah if she wanted to be 'thrown in a lake' for a photo-shoot. When she said 'yes' I knew with confidence that the results were going to be good, very good!
Awaking at two am for a two and a half hour drive to Nottingham in time for a 'fiveish' am sunrise was no problem. The weather forecast was not good at all, but I was confident of a good result. After a period of several hours driving through heavy rain I spotted a patch of blue sky between the clouds. As I arrived to meet Sarah and Claire www.claire-elizabeth.com the sun was just making an appearance, and when we reached the location it was perfectly 'placed' above the hill behind Wollaton Hall lake. Then the 'magic' started – the mist began to rise, a deer came to say 'hello', a family of swans headed towards us. When they got fairly close there was a parental hissing to warn the signets not to approach the slightly nervous lady [who was now] in the lake, and who was, after all, carrying a medieval sword [as you do!] for protection, kindly provided by the Galleries of Justice  www.galleriesofjustice.org.uk  .
[For the historians among you, or those in pursuit of a medieval sword, this was arranged through Adam Nightingale who alternates between being Nottinghams acclaimed historical writer www.amazon.com/Masters-Crime-Fictions-Real-life-Inspirations/dp/0752454188 and the legend of the Sheriff of Nottingham – now you know!]
I don't normally feel the need to strip back to a shirt and underpants [I had, unfortunately, left my bathers in the car, anticipating the possible need for 'in the artistic pursuit of wetness'] but the shot needed me to get wet, it really did. In front of the assembled entourage [Sarah, her mum, Mig, the family dog, Boris, Claire ['Mrs. Makeup'] and her daughter, I gingerly removed my long trou's which Claire fortunately deemed were safe and discreet enough for the two metre dash to the lake.  At least at six am there were no dog walkers [other than Mig] at a lake a fair trek from the car and well before opening hours.
I did spot an official park vehicle approaching but very fortunately it did not stop. I was wondering how I would explain the presence of a yelping immersed lady wearing a curtain wielding a sharp medieval weapon and being towered over by 'Homeresque' underpants man on a ladder, also in the water, and with 'drawn' camera. The yelps, incidentally came from Sarah who was convinced she was being bitten by leeches. As I left the water feeling some leg 'stabs', some welts visibly oozing blood, I was then equally convinced that the blood sucking leeches had attacked me too. A visit to a very amused Dr.King the next day [I got the appointment very quickly  after telling an equally amused and suitably entertained receptionist the reason for my welts and how I suffered for my art] resulted in a prescription for antihistamines for insect bites and some 'stop the itching' cream. She had checked my blog even before I arrived! The legs are still puffed up two days later, and my legs have a chicken pox appearance [evidently I was more'tasty' than Sarah to the unidentified nasty insects, but enough of the 'embarrassing' body story!]
My evening appointment [due at 6pm ] rang up to postpone due to poor weather at home, leaving Sarah and I ample time to edit the images and send a few of the very best to the national and local press as  'warm weather' photographs. The rest of the day then became unexpectedly available for some spontaneous and rather random photo-shoots in and around Nottingham – including a photo with a tuba www.windblowers.com, a visit to a fancy dress shop www.thegoldencage.co.uk and some skirmishes with Robin Hood [as evidenced below] and in the surroundings of Nottingham Castle.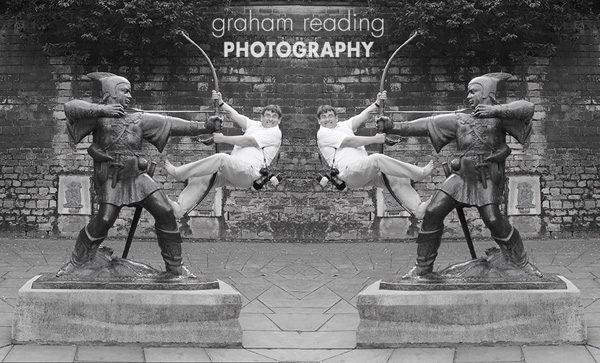 I was finally photographed by the very talented and highly creative Sarah Davenport. What an honour!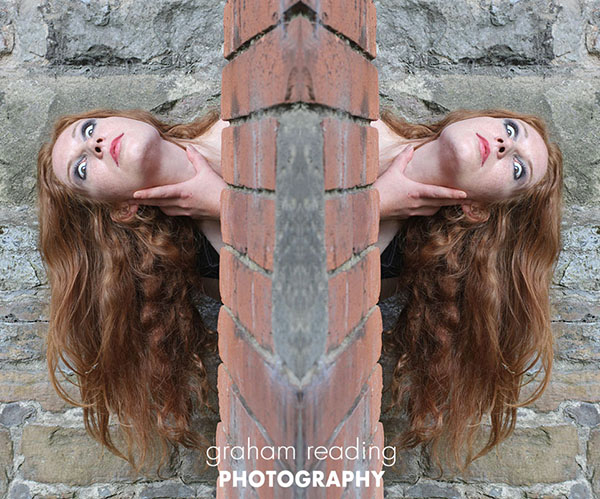 …a 'Grahamesque' interpretation by the castle walls!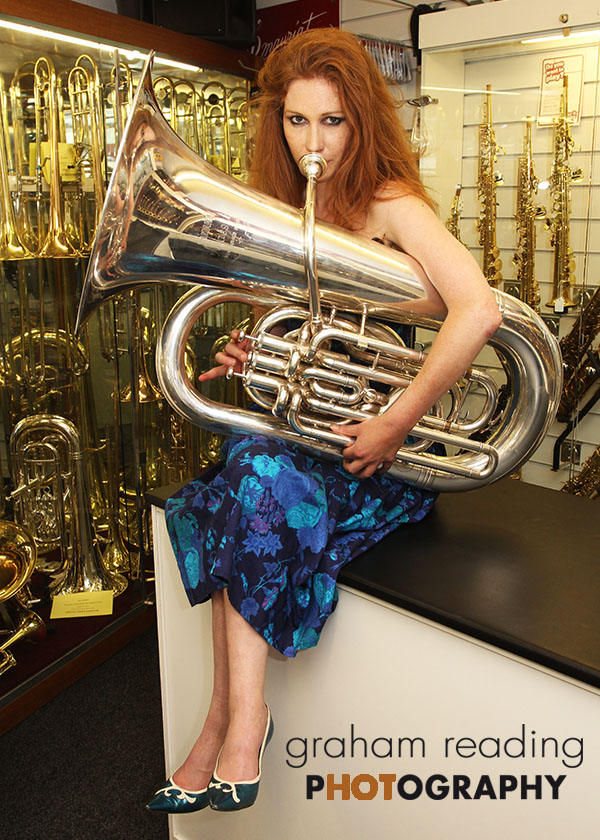 Sarah tunes up!
WATCH THIS SPACE